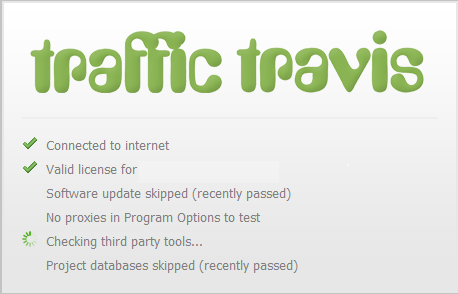 Why I Bought Market Samurai
I bought Market Samurai last year after reading Pat Flynn's post then about 6 months later Pat was less than positive because MS had lost some of its BEST Keywords research features that leverage Google's search API.
Market Samurai developers have updated the software, but now it uses Bing's API instead.
That's all good if you want to rank for Bing but…
…I want to rank for Google!
Read my update to this post about the Best Keyword Software in 2018.
Why I'm Testing Driving Traffic Travis
Well, first, Traffic Travis has Google's favor for now and I've been using the FREE version for about 4 days and so far I love it!
I can honestly say it's faster and easier to use than Market Samurai…
…and it doesn't run on that funky Adobe framework that always wants to upgrade every time I load the software.
The TT software runs in what seems to be a web 2.0 client that must sync to multiple back-end web services.
It's nothing like Market Samurai and Traffic Travis runs faster!
I haven't purchased the Pro version yet…
…but here's a comparison of the Free vs the Pro Traffic Travis software:
FREE Version (Get Software)
The Traffic Travis Free version is fully workable software. It'll do most of what the professional version will do with a few differences:
A limited number of projects.
Data caps on some API calls.
White label branding of reports.
A limited number of results returned in some sections.
Pro Version (Buy Pro Software)
If you want to dive right into the 4.1 professional version is much more powerful. Here's a quick run-down on it.
More accurate keyword research results, plus more detailed data.
Ability to search for domain name availability for multiple keywords simultaneously.
More detailed analysis of SEO competition. Easily see how hard it will be to rank for any keyword.
Ability to compare backlinks to multiple websites at once.
At the click of a button, find sites where you can get quality links from.
New Adsense analysis tool. Lets you find overlooked traffic opportunities.
Updated Adwords analysis tools.
Brand new interface that is more user-friendly and puts everything within easy reach.
My Test Results
Here's what I've been able to do so far with Traffic Travis:
Find low completion keywords.
Discover SEO mistakes on my site.
Understand why my competitors are outranking me.
Find relevant blogs I can build backlinks on.
Screenshot from Testing on my VMware for Beginners Blog: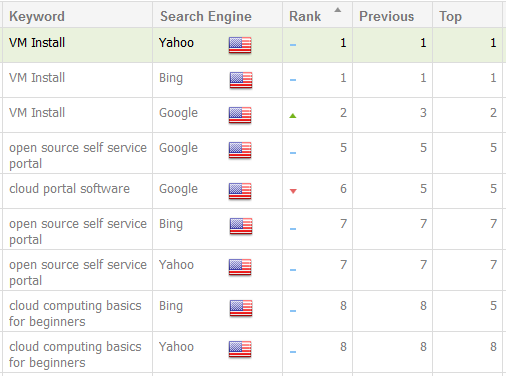 A key thing to notice is my main keyword moved up on Google SERP from 3rd position to 2nd position after making the recommended tweaks to my homepage.
Conclusion:
I can't say I was a die-hard Market Samurai user because it changed right after I purchased it so I don't know how good it was – but from what Pat Flynn said, it was awesome at one point.
What I can say is after 4 days using Traffic Travis one of my main blogs has already benefited…
…and this was from only the FREE version!
I've got 5 websites I'm testing it on to see what happens, then I'll pull the credit card out and pay for the Pro version.
I like that I can try the Traffic Travis software before I buy it!
 Here's the YouTube Video by Justin Young that I Watched:
Update #1
Today I found another valuable reason why I love Traffic Travis.
After almost a year of using Market Samurai, I never knew my heading structure (H1 tags) were wacky.
There's nothing like working to write an epic post, only to never get it ranked because it's on-page SEO was bad!
I've got a lot of clean up work to do…
 Traffic Travis Page Errors Screenshot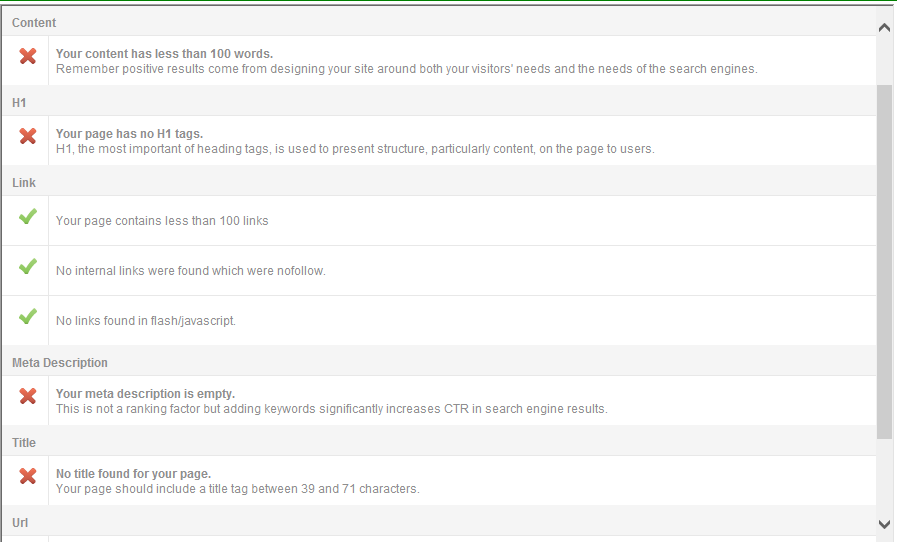 Here's what Yoast has to say about proper heading structure tagging. (Read)
Update #2
On day five I was surprised when I clicked to open Traffic Travis and got a software update warning screen advising me of an update.
I closed TT and reopened it and the error was gone.
Here's the screenshot of the warning: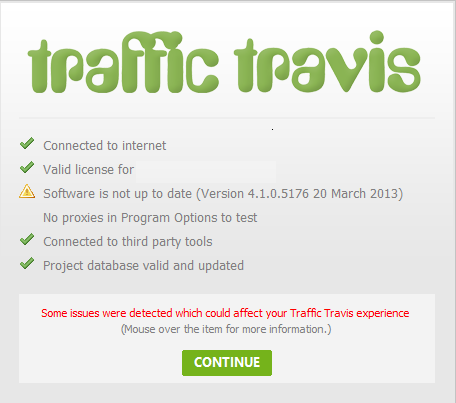 Update #3 (day 6)
Yesterday, (day 5), Traffic Travis crashed for no known reason and I had to re-register it.
Sorry, but I forgot to get a screenshot of the crash error and license renew screens.
Also, on another topic, I was comparing the competition features of Traffic Travis vs Market Samurai and aside from the search API issue, MS has a much more detailed report.
Although, something I think is missing on both products is the date of the post. MS provides the domain age, but neither has the post age.
In my research on keywords, I've noticed some URLs ranking in the top 3 positions without any real site authority
The only thing I can conclude is the post and domain are older than the rest of the list based on the date listed in the URL.
Update #4 (day 6)
OK, as luck would have it, I got the error again that crashed Traffic Travis on day 5…
…and this time I got screenshots: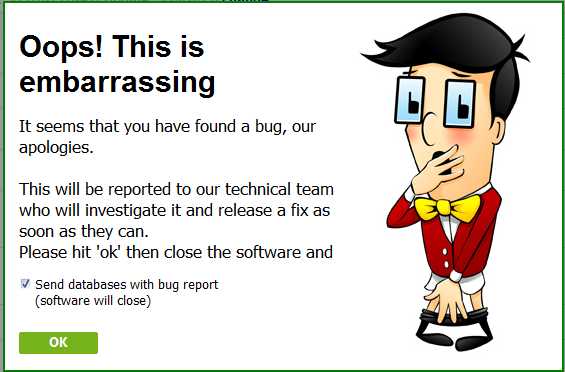 Bug Report Screenshot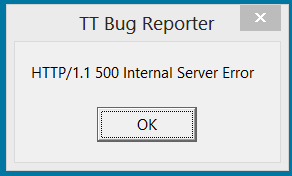 After clicking the OK then this box showed up which for me means maybe their back-end server is down or overloaded.
Update #5 (day 8)
Today while doing keyword research in Traffic Travis I noticed SERPs info is not always accurate on keywords with less than 1,000,000 search results.
Also, the sort for SERPs column is buggy.
Screenshots of inaccuracies:

Google Results 1 – used cars phoenix az (incorrect)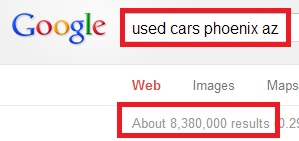 Google Results 2 – car auctions in phoenix (correct)

After testing this on multiple search terms it is conclusive.
You will need to open a Google search and verify the SERP results.
Another thing to note – while comparing SERPS from Traffic Travis vs Market Samurai I found TT gives "broad search" results whereas MS gives "exact".
These 2 numbers make a big difference in SERP results.
Update #6 (day 12)
Today I ran into another limitation I wasn't aware of with the free version of Traffic Travis.
There is a 20 per day limit on how my searches you can do on the SEO competition (see screenshot below).
Did you find the review helpful? I also recommend you read my updated Best Keyword Software Review, too…Thanks!