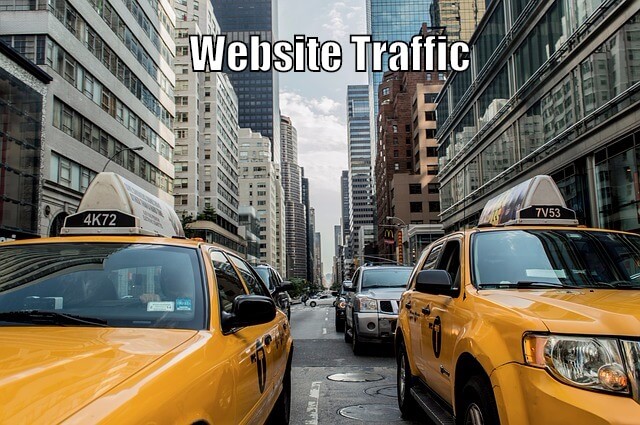 I've been doing a lot of reading lately about Internet affiliate marketing and SEO tips and tricks. And, I've also spent way too many hours listening to Podcasts by Pat Flynn, Corbett Barr and Glen Allsop (just kidding – it really helps pass the time on my 2.5 hour commute/per day).
Aside from applying their advice to my blog, I also decided to put their website traffic generation strategies, tricks and tips to test, and conduct an experiment for myself on a new website.
Code Name "Desert Dueler" – being that I'm in Arizona
I'm breaking the test up into various phases and the first phase will be based on selecting a good domain name with my keyword (phrase), which I've decided is "Traffic Report" (see MS analysis below). Using Greg's strategy, I was able to get TrafficReportHQ.com (TrafficReport.com and TrafficReports.com were taken) – I see now where Pat got the idea for SecurityGuardTrainingHQ.com.
Also based on Glen's advice during his interview with Pat in SPI003 where they discussed choosing what to blog about. Glen suggested: passions, fears or problems, I've chosen a problem – TRAFFIC!
Now I must admit, I was a little bit concerned when choosing "Traffic Report" as the keyword because Market Samurai was mostly associating traffic report with Los Angeles, New York and Chicago freeway traffic, and I wanted to focus more on Internet and website traffic. I decide to throw keywords related to both topics into this post and see what Google sends me.
 Phase 1 – Website Traffic Test
Phase one will include setting up WordPress, SEO plugins, and writing a an EPIC post (you're reading it) to announce the website traffic test I am conducting. I'm curious to see if LA traffic report brings anyone to the website traffic test?
Later phases will include: socializing and backlinks, but for now I will concentrate the website traffic test on: the content, domain name, meta tags, title, SEO plugins and of course – how WordPress performs. I also linked to the experts, to the WordPress plugins, and the affiliates I used.
Basically to paraphrase Corbett Barr, it's a "Build it and see who comes", website that I'm testing in phase one.
Here's a breakdown of how Traffic Report HQ is setup for phase one testing.
1. Keywords found and analyzed using Market Samurai – completed.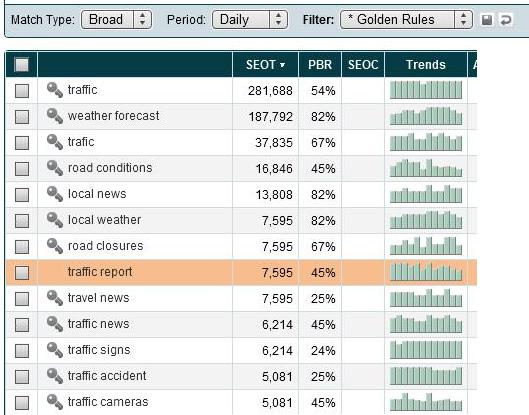 2. Google Domain Name Test  – completed.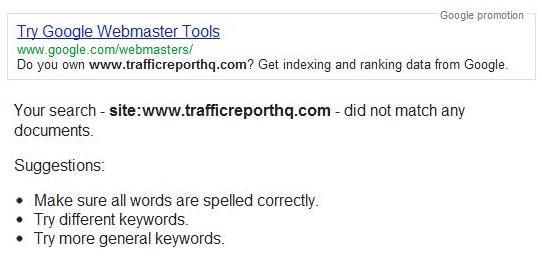 3. Domain name purchased on Godaddy: trafficreporthq.com – completed.
4. WordPress Setup – completed.
WordPress installed on Godaddy shared hosting account – completed.  BTW – I decided to use Godady vs. BlueHost or HostGator because Godaddy allows 100% utilization of 256MB of memory vs. 25% or 64MB on shared hosting accounts. Less memory can cause issues with plugins and get you sent ugly emails from support. The trade off is you don't have cPanel with Godaddy.
5. Traffic Report HQ Theme Creation  – completed.
Custom theme created for TrafficReportHQ.com using Artisteer – It may not be as SEO optimized as Thesis Theme but I enjoy the ablity to customize my themes without hacking a lot php code (note: the Traffic Report HQ theme I created simulates colors and layout of ViperChill.com  – I could have gotten it closer but I didn't want to piss Glen off. :)).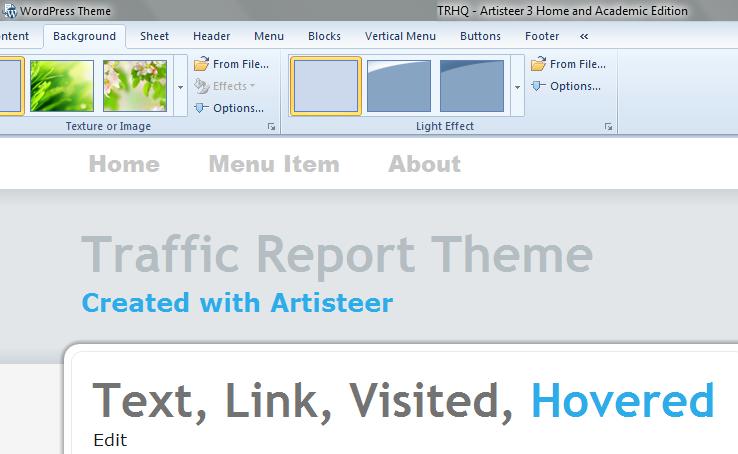 6. Plugins installed on Traffic Report HQ  – completed.
404 Redirected – This plugin works really well for logging 404 errors but I also like that it logs when hackers are working their way through all your directories looking for specific files.
Akismet – Comes preloaded on WordPress install.
All in One SEO Pack – I know Joost in his report on SPI says his Yoast plugin is better than this All In One SEO, but I find AIOS is easier to use and does work very well. You can read more about this on the Smart Passive Income blog. (Configured with "No-indexing" tags and categories, but I am using meta tags for keywords)
Google Analyticator – There's various plugins for Google Analytics but I've gotten used to using this one.
Google XML Sitemaps – This plugin works great for creating sitemaps. It also allows tweaking the tags and categories to help minimize creating duplicate posts that hurt your Google ranking. (Turned off all tag and categories)
Jetpack by WordPress.com – Comes pre-installed on WordPress and I'm only using the statisics because I like the graphing, search and keyword tracking features.
Pretty Link Lite – Pat Flynn recommended this in a post and I really think it's cool for tracking what people click on. BTW, all the hyperlinks in this post are using Pretty Links.
Smart SEO Links – Per the experts -keep link juice from leaking out via external links. (using no-follows)
Visitor Maps and Who's Online – There's others but VMAWO works. If you are reading this post I know your IP, how you found Traffic Report HQ, what browser and OS you are using and what country, state, or city you are in. I don't use this information for anything but I got it with this plugin the moment you arrived.
WP-DBManager – Cool backup plugin that works and is free.
WP Smush.it – This was recommended to Pat Flynn by Joost so I've been using it. (optimizes photos)
7. Google Analytic ID create for traffic reporting during the website traffic test – completed.
8. www.TrafficReportHQ.com was set up in Google Webmaster Tools and in Bing- completed.
9. Write home page title and description for All In One SEO using Pat's advice – completed.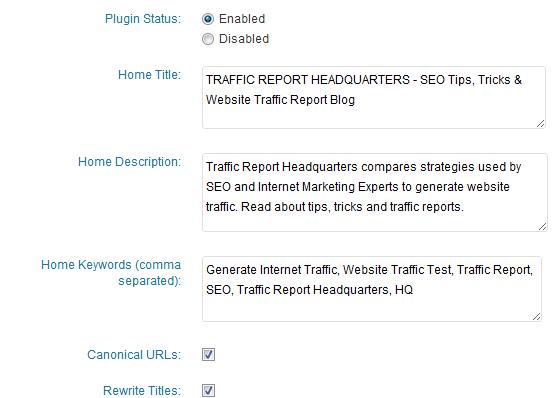 11. A simple graphic was chosen for the first post and the graphics file name was changed to include the keywords for the test. (see upper right corner)  – completed.
12. Write an EPIC Post  – completed.
Write an epic post with easy to read formatting (Per Corbett) that talks about this Traffic Report HQ and how awesome Pat, Corbett and Glen are for sharing their strategies! BTW guys, if any of you happens to find this post and read it, please leave a comment (Per Pat, don't be afraid to ask – so I asked)?
7. Reference Links to the 3 People that Inspired this Test  – completed.
I'm sure they would not consider themselves experts but what else can I call them when their blogs are so successful? These are the experts who's tips and suggestions I've used to set up this traffic test.
Quick Update on Status After Setup (one week after WordPress was setup)
I was very suprised to see how quickly Google indexed TrafficReportHQ.com – now we'll see what happens.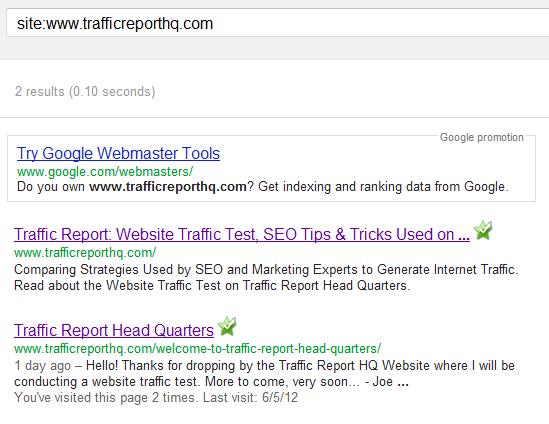 Phase 2 will cover using social and back-links to test generating traffic in July.
Traffic Report Test Update (6-13-12)

It's been almost 2 weeks now since Traffic Report HQ debuted and not much has been going on except:
1. How quickly the keyword "Traffic Report HQ" took first place on Google.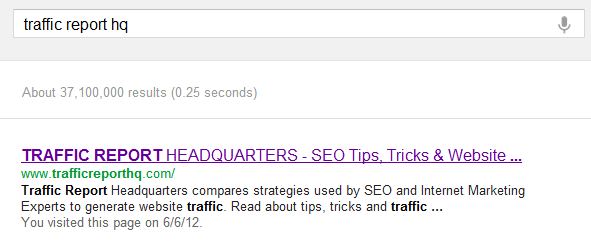 2. See Traffic Report Headquarters not far behind.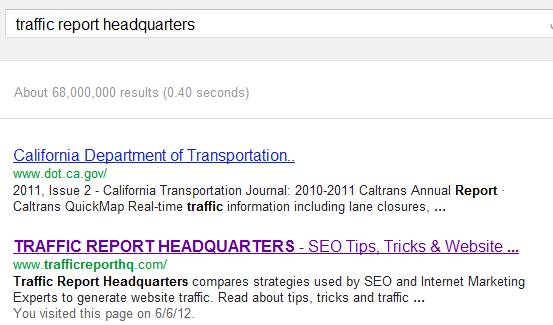 3. Disappointed that TRHQ hasn't even ranked yet for "Traffic Report" :(.
4. A surprise result was that a query for Pat Flynn brought a visitor to the sight.
Two other things to note are:
1.  I swapped out All In One SEO for WordPress SEO (by YOAST). I plan to swap it back later this week.
2. I rewrote the TRHQ title and description to better leverage SEO and keywords "Traffic Report".
Traffic Report Test Update (6-19-2012)
Well, as expected my first guest looking for Los Angeles Traffic Reports arrived yesterday evening. Still waiting to see if the keyword phrase "Traffic Report" gets any attention.
Another thing to note is Google doesn't seem to be indexing as often anymore. The Organic Traffic post I wrote  over a week ago is still not crawled.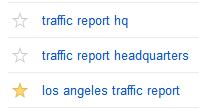 Google Sparkline started – June 6, 2012
[pageviews: sparkline]
If you read this far thank you! Please take a moment and comment because I really would appreciate knowing what you liked about TrafficReportHQ.com? Or, if you found this website searching for a LA Traffic Report? Either way … thanks for visiting!