Is iWriter the right content mill choice for your budget and style?
Let's find out!
Listen:
We all need epic content for our affiliate sites.
But if you're like most online marketers, you don't have the time or energy to crank out epic articles for your niche sites because you already have a full-time job…
This was also my problem for years until I burned myself out getting up at 3 AM to write.
I know, crazy, right?
But just because I've found a low cost way to 10x my content creation for all my affiliate sites without losing sleep doesn't mean it's a fit for everyone.
See for yourself:
By the end of this iWriter review, I'll show you how I get high-quality content written for my Amazon affiliate marketing websites or any other writing I need…
Articles
Reviews
Blog Posts
eBooks
Press Releases
Product Descriptions
How To Use iWriter For Cheap, Fast, Quality Content
---
The good and the bad news.
First off, the bad news – I've had some real duds written for me on iWriter that I flat-out rejected! No joking, they were crap.
But I needed something because paying $100s for 1000 word articles at the other content mills wasn't the solution, even if they did require less editing.
Now, the good news – I was already creating all my content. So I knew I was an OK copywriter.
The secret to my successful content creation system became taking good articles from 3 and 4 star ghost writers and then spicing them up with my own voice, emotion, humor, and experiences.
Not only did this content hack make so-so blog posts, reviews, and articles unique and relevant but also longer.
Longer content helps your SEO…
I noticed I was increasing the length of a 1000 word article from iWriter by an average of 300 – 500 words, sometimes more.
As an example, this was an above average 1000 word article I purchased for $25 (including the tip) on iWriter that's now almost 1900 words.
The result is what you'll find below…
 iWriter Review 
To set up this review, I'll begin with some background, followed by the details, and then we'll get to the PROs and CONs.
About iWriter
In case you're interested in knowing – iWriter was founded in 2011.
That's over 7 years ago, so they know what matters most for getting your content ranked on Google.
And, they have a massive database of content creators from all over the world.
They also estimate close to 1 million writers are ready to help you out on any of your niche site projects.
Of course, a significant chunk of their workforce are not-so-good writers.
As well as non-native English speakers, who can be a real pain to deal with and they'll waste your time.
But sometimes you'll find a jewel to work with as I did for my ChoresDFY.com project that already ranks on page one of Google for multiple money keywords.
The lower caliber content writers are found on the STANDARD tier.
If you like the content for the service articles you saw on ChoresDFY.com, you should save yourself the trouble and go for the PREMIUM tier writers, and above.
With prices starting from as low as $1.40, iWriter offers a relatively good platform for newbie and pro marketers who need website content, fast.
 The Truth About The iWriter Content Mill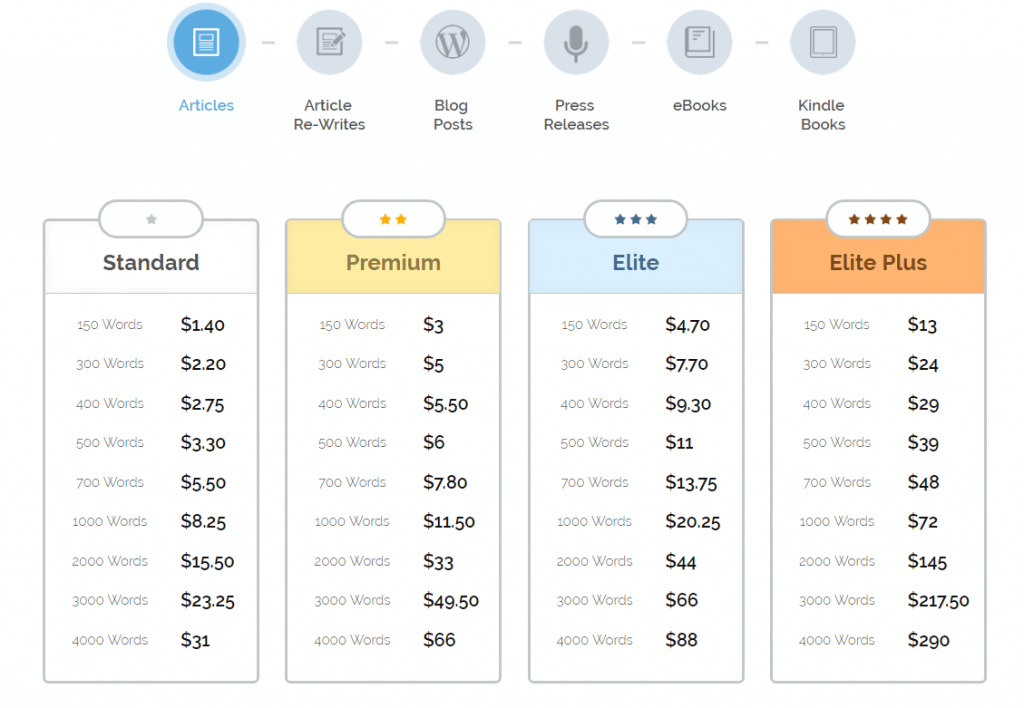 In this iWriter review, I want to be honest with you because I'd expect the same from you.
If you're looking to purchase cheap, quality, articles for your Amazon affiliate marketing efforts, iWriter might be the place for you.
But it might take a few tries before you find someone good. I've had a few bad experiences of my own, but then I discovered a rock star – now he does all my articles.
Hire writers from everywhere…
You'll like the fact that iWriter hires people from across the world meaning their pool of authors is quite dynamic.
And, you can have them write about any topic in any language.
But of course, not all writers are equal.
The best way to get value out of their service is by understanding how to use it.
So, here's the deal – I am going to walk you through the different packages available and what you can expect from each one of them.
Hopefully, this will help you filter out low-quality content so you can focus on getting good and high-quality articles written for your website.

Elite Plus Package
This is the top-most level of writers you can hire.
They are the folks you'd find working for local magazines or blogs but prefer to spend an hour or two working online to earn extra money.
This is the safest choice, especially if you're in a highly competitive niche where readers value great prose.
Basically, to become an Elite Plus writer, you have to receive a consistent 5-star rating for the first 40 articles you're paid to write and that's not easy to do.
However, getting your content done by these guys will require a slightly larger budget.
The average cost of a 500-word article is in the upward of $40 – but it's worth it.
Elite Package
An extremely high price tag might drain your affiliate content budget especially if you're just getting started and planning to get dozens of articles with thousands of words written.
But don't worry!
Because the Elite Plus tier is the next best option for Elite writers.
These are equally skilled writers who for some reason happened to work for one or two clients who rated their work at 4.5-stars.
We all know that there will always be that one choosy client who will underrate work just because they had a bad day.
Elite writers are as good as their Elite Plus counterparts, but their services are cheaper.
In fact, you can get a 500-word article done from as low as $11, which is the tier I often choose for many of my Amazon affiliate projects.
As you can see that's a heavily discounted price for content that you can publish directly to your site without many edits.

Premium Package
This tier offers a mixed bag of surprises.
You might be lucky to find a terrific writer at this level, but there are also chances that you might end up with a beginner who just graduated from the entry-level tier.
Fortunately, there is a "Request Revision" button, and if you receive content that doesn't exactly live up to your expectations, you can always have it re-written.
With prices starting as low as $6 per 500 words, Premium writers can easily help you get your content marketing started with cheap articles.
The main challenge is you may run into a few bad apples who try to sell you spun content.
On the other hand, you might find an outstanding author to help you create high-quality, low-cost articles for your Amazon affiliate sites.
Standard Package
If you're looking for original content written at dirt-cheap prices, you know where to turn!
The Standard Writer cohort includes anyone and everyone…
Some are native English speakers who are just getting started and only need to attain 40 reviews to be promoted to the senior level tiers.
You see, what makes iWriter unique is that all writers – no matter how good or bad – have to start out as Standard writers.
Anyone who fails to rake in 4-star, 4.5-star or 5-star reviews either has their account terminated or remains at the Standard Level.
This protects us affiliate marketers from wasting our money and time with poor content.
So, when you order your content from this caliber of writers, you're either likely to get outstanding results or pathetic gibberish.
For example, a 500-word article will cost you $3.3 which is extremely cheap if it's good writing…
This is perfect for your Web 2.0 content needs but not good for your money sites that need epic content.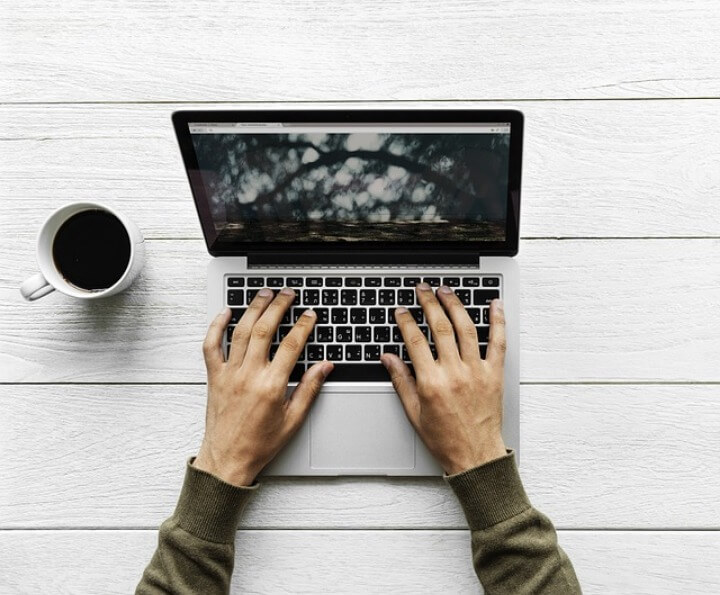 iWriter FAQ 
How good is iWriter Content?
With such a huge number of writers, iWriter offers a fast turn-around time especially if you place your content in the general queue.
In fact, you can get your content written in a matter of minutes if that's what you need.
And their customer support team is quite supportive and responsive.
However, they don't work round the clock or on Weekends.
So if you send them a question on Saturday morning, you'll have to wait until Monday to get a response.
But generally, this is a fantastic site, and if you're lucky to find a good writer as I have, you just need to add them to your list of favorites, and they hire them over and over.
Once a writer learns your style, it's easy to get high-quality article created within days of your order.
But I do want to warn you, the quality of content offered on this site does vary across all tiers.
Usually, the higher you go, the better the quality of research, grammar, and creativity.
What about the originality of content?
Well, all content submitted to clients is checked with Copyscape Premium plus for originality. And there are plans to introduce Grammarly checks in future.
So, even though the content mill may not be perfect, they're doing all it takes to achieve the best product for you.
Who Owns iWriter?
The site is owned by Brad Callen.
Brad is a renowned internet marketer who spends most of his online time on Warrior Forum.
He's an Indiana-based online entrepreneur who owns Bryxen Inc. and products such as the AK Elite Ranking software and SEOLinkVine.
 iWriter PROs and CONs 
The PROs
#1. Fast turn-around time to get your website fresh content for higher Google ranking.
#2. Helpful customer support to help settle payment or account issues fast.
#3. Reasonable pricing with multiple tier scale for good, great, and best results.
#4. You don't have to pay until you get what you want, which is great for small budgets.
#5. Easy to use interface that helps clearly describe your needs and specific content requirements.
The CONs
#6. Majority of "writers" on the Standard tier are low quality, non-English, content creators so beware before you place your order.
#7. You need to check work carefully before approving and paying to ensure it is not duplicate or spun content.
Final Thoughts About My Secret
Well, the good news is you don't have to spend any more sleepless nights writing, proofreading or even optimizing your articles for SEO and grammar!
Leveraging a content creator system, all you need to do is budget a few dollars a week to buy high-quality, low-cost articles or reviews that you turn into epic content for your Amazon affiliate site.
And with the stakes being so high for all affiliate and niche marketers, you can't afford to skimp when content creation is concerned.
According to Brian Dean article on ranking factors, your website SERPs are literally counting on people reading your articles without clicking the back button.
But, like I said, the good news is you don't have to pay for the articles until you get what you want.
And, you can sample different writers until you find an experienced author who can get your online marketing business to a whole new level.
All in all, my iWriter review is fair, and I'll keep using their services to keep growing my affiliate sites…
What do you think?
Are you surprised to know this review is partially written by my favorite iWriter author?